Lompoc-A Town of Rockets and Flowers
Lompoc is the most Southwestern community in Santa Barbara County and is well know for it's fields of flowers grown for the florist industry. Lompoc's location off the beaten path from Highway 101 means it is often overlooked, which is a shame as Lompoc has a lot of charm. Many residents work at Vandenberg Air Force Base which is the largest employer in the area. Vandenberg is the west coast space port for both the military and civilian space industries such as Space X which are both growing. Space X expects to add up to 30,000 employees over the coming years. As a result real estate values in Lompoc have seen a more dramatic increase over the years than many other Central Coast communities.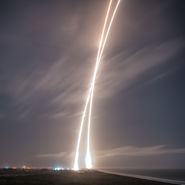 There are several unique communities in Lompoc that offer homes of varying styles and values, for both in city living and those preferring a more rural setting and even farms and ranches. These communities include Mission Hills and Vandenberg Village. It is still possible to find homes in Lompoc for the low $200's but that is quickly disappearing. Prices can be as high as the $900's for some of the newer homes near Village Country Club.